Coulee Corridor National Scenic Byway History
May I introduce myself to you? I am a Washington State designated national scenic byway known for my history, my unique basalt rock, and for my desert landscapes. In 1997, my residents used a grant from the Federal Highways Administration National Scenic Byways Program to develop a Corridor Management Plan (CMP) which is designed to help byway

communities tell my stories to travelers. This grant was the spark that ignited the people of the Coulee Corridor to become active stewards of all my natural and historic features. They first formed a byway organization, the Coulee Corridor Consortium (CCC,) which became a 501c6 non-profit corporation and later a 501c3 organization. Then I began developing and implementing projects needed to tell my stories. Since 1999 the CCC has steadfastly pushed forward with promoting, protecting, and preserving me, by gaining community and tribal support. The group worked with communities to put up community kiosks in various towns along the byway. Some members were instrumental in helping to publish interpretive leaflets including a Geologic Guide to the Coulee Corridor, People and Places of the Coulee Corridor, and Top 26 Trails in Grant County.
To many "Coulee" is a strange and unfamiliar word. Let me clarify; coulee (koo'lee) is a French word meaning dry riverbed or canyon. Some of my earliest European explorers were French Canadian fur trappers, and when they came upon my central natural feature, a 50-mile long nearly one thousand foot deep by two to five mile wide dry canyon with shear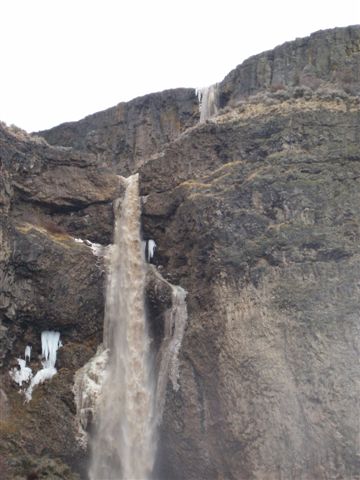 basalt walls, they named it the "Grand Coulee." The" Corridor" part refers to the historical routes and trails and modern highways. This corridor has been used as a pathway of trade, freight and exploration for hundreds and even thousands of years and continues those uses today.
Today, my corridor is defined as I travel state highways SR 17, US 2, and SR 155, some 150 miles from the town of Connell on the south to the city of Omak on the north. Ironically, although my French name means dry canyon, my dominant resource has been water. It shaped my landscape during some of the most gigantic floods on the earth and has threaded its way through all the major events of my history. The Ice Age floods which occurred between about 17,000 and about 11,000 years ago carved out pathways for the humans that followed. Beginning thousands of years ago, Native American tribes were the first inhabitants followed by trappers, miners, cowboys and more recent European settlers and other ethnicities through the modern era. As farmers began tilling the soil and the dreamers of grand developments built the Grand Coulee Dam, much of the area has been transformed into one of bountiful agricultural production in a stark desert climate.
More than ever tourists continue to travel my roads and to appreciate the unique basalt formations left by the ancient waters of the Ice Age floods. They come to see landscapes with a kaleidoscope of stories and attributes told by the people who are the spice and essence of who I am. From the Native American stories passed from generation to generation, to the journals of European explorers and immigrants who settled upon my land, I am a multitude of rich historical perspectives set upon inspiring scenic vistas. I offer endless opportunities to recreate and enjoy the unique natural world enclosing my thin sinew of asphalt.
Most of all, it is the people stretched across the backbone of my frame reaching across this storied landscape which have created the" Coulee Corridor National Scenic Byway." Today's explorers of the "Coulee Corridor National Scenic Byway" come with an excitement and an eagerness to learn, discover, and enjoy what and who I am. My visitors add their stories to my legacy returning home to encourage others to come and experience the unique landscapes I have to offer.