COULEE CITY
Coulee City is located on U. S. Highway 2 in Grant County along the Banks Lake shoreline.
The town was first called McIntee's Crossing, after Philip McIntee, until 1890. It was the only place along the Grand Coulee where the steep basalt rock cliffs were passable and coincided with a water hole on a portion of the Caribou Cattle Trail. It also served as a stagecoach stop on the Waterville-Spokane Wagon Road. The first bank, Security State Bank, which opened in 1902, and closed in 1921, is now occupied by the Coulee City hall. Fires destroyed the Hotel Coulee in 1929, followed by fires which destroyed the threatre, and wooden grain elevators in 1934. The town name was changed to Coulee City in 1937.
The two small pictures below are part of the Dry Falls Interpretive/Visitor Center southwest of Coulee City on State Highway 17. The center proper is a squarish building established in the 1970s while the open air structure which overlooks Dry Falls was built in the 1930s. The Visitor Center has a small theatre where a movie on the Ice Age Floods can be viewed, a book store, interpretive displays, and wonderful panoramic views of Dry Falls and the Lower Grand Coulee.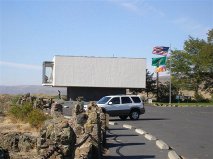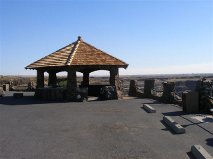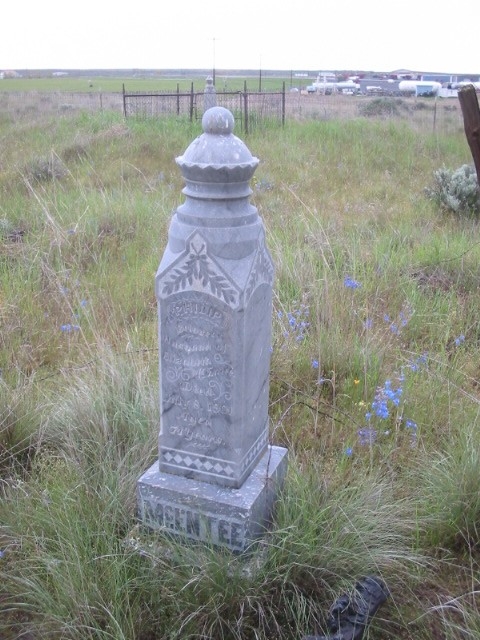 The stone above lies in the Pioneer Cemetery on Road 37 NE about 2 miles north of Coulee City proper. Philip McIntee, Coulee City's first settler is among the residents buried there.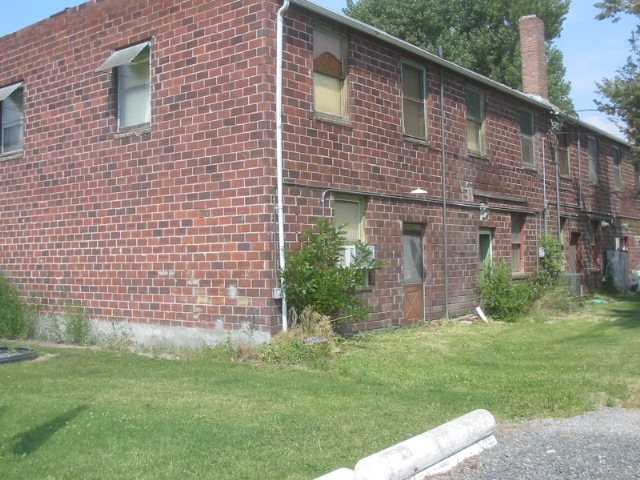 This is a current photograph of the Thompson Hotel on Main Street. A. R. and Alice Thompson bought the Hotel Coulee two-story building in 1910. After it burned in 1929, Thompson rebuilt it by 1931. Materials are of tile and red brick transported from Mica, south of Spokane. Son, William and Kate (daugher-in-law) Thompson ran the business from 1946 until it closed in 1972. The hotel had 22 rooms, 10 of which shared bathrooms, a lobby with 10' tall ceilings; it was carpeted with stairs to the second level and had steam heat. A detached brick root cellar sits in the back of the property. Between 1931-1945, the Columbia Cafe restaurant operated on the premises. The building currently rents out apartments to tenants.
The Coulee City Kiosk is located in the community park north of U. S. Highway 2. It was installed in 2019. A special kiosk dedication ceremony will be held in fall 2020. Date has yet to be announced.