ELECTRIC CITY
Electric City is bisected by State Highway 155 and lies in Grant County.
The town was started in 1934 as a community to house personnel working on the construction of Grand Coulee Dam. "Old Timers" say the name for the town was chosen as it was designed to provide electricity for all housing, lights, and heating. The town's "historical" distirct consists of buildings relocated from the town of Osburn or Osborne, flooded by Grand Coulee Dam. Original buildings are the fire hall, now the City Hall, while H&H Grocery started out as a restaurant.
As part of an effort to help promote the area, a community kiosk, funded through a National Scenic Byway grant to the Coulee Corridor Consortium, was erected in North Dam Park between Electric City and Grand Coulee. A formal dedication ceremony is planned for fall 2020 with a date yet to be announced.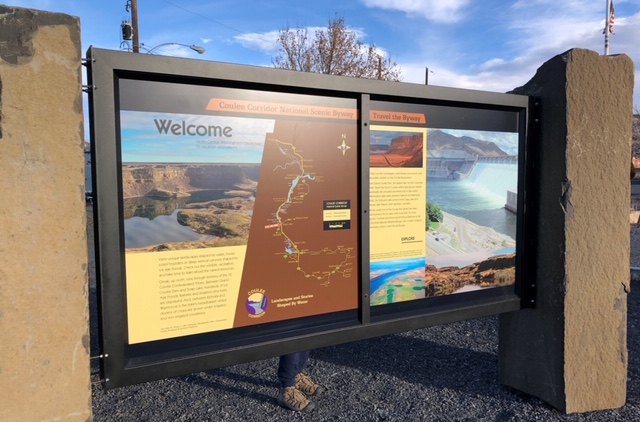 Electric City has some interesting sites: The Coulee Pioneer Museum, North Dam Park, Banks Lake, and the Gehrke Windmill Garden are all attractions.