EPHRATA
Ephrata is located on State Highway 28 at the base of the Beezley Hills in Grant County.
The area around Ephrata was originally home to the Columbia (Sinkiuse) tribe when it was known as Tukta-hyos-pum. Known locally as Beezley Springs after horse rancher Frank Beezley, it became the Great Northern Railroad's Station 11 in 1892 and finally "Ephrata" in 1901. According to local lore, a railroad worker thought he saw similarities to agricultural landscapes around the Holy Lands in the Middle East and named it Ephrata. The town was incorporated in 1909 and became the Grant County seat. It has been a transportation hub for livestock, fruit, and other crops, by wagon, rail, truck and air travel. Ephrata served many people working on the Grand Coulee Dam project in the 1930s, was a training base for the Army Air Corp in the 1940s, and provides offices to the Bureau of Reclamation which has administered the Columbia Basin Irrigation Project since the 1950s.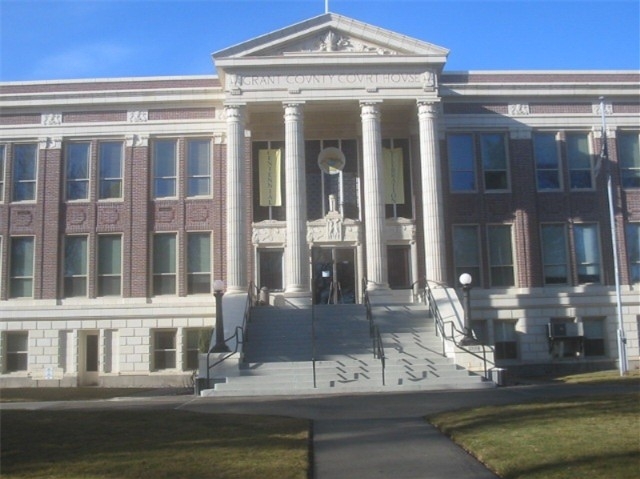 The Grant County Courthouse is located at the corner of First & C Street. Construction was started in 1917 and it was completed in 1918. The attached Annex building was built in 1957 while the Law and Justice Building was completed in 1984. The courthouse has been heated with coal, oil, hot water, and electricity. A geothermal 2000 feet deep drilled well (#10), located 1 1/4 miles southeast of the courthouse, was the source of 82-88 degree Fahrenheit water, which provided radiant heat from 1987-2004. In 1975, the Courthouse was added to the National Register for Historic Places.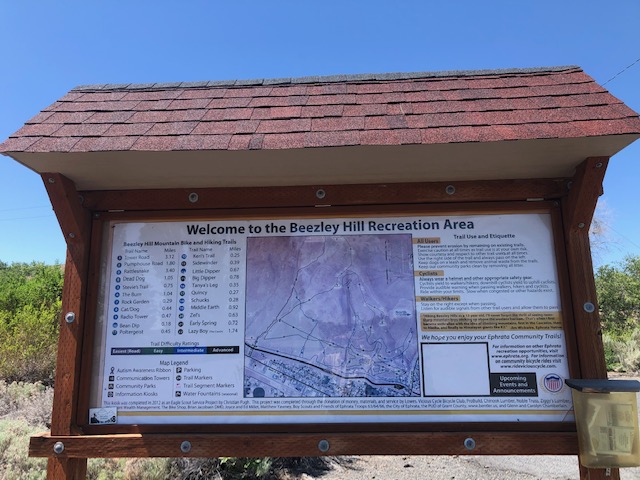 A 2020 publication by Grant County Tourism called Top 26 Trails in Grant County, Washington highlights hikes in the Ephrata area. Trip #15 introduces the walker to more than 20 miles of trails in the Beezley Hill Recreation Area above the town. Though there are several access points, the main starting point is at the trailhead readerboard. This can be found by going west on First Ave NW, past the Courthouse, and up the hill about .3 miles. Turn left before the canal onto Cyrus Street and turn into a large parking lot (next to a church) where the trail kiosk is located. Walkers, hikes, runners, mountain bikers, and even horses regularly use the trails. A copy of the free trails leaflet can be obtained by going to local Chambers of Commerce.