OMAK is located on the far north end of the Coulee Corridor National Scenic Byway at the intersection of State Highway 155 and US 97 on the Colville Indian Reservation.
Omak comes from the Indian word Omache which means "good medicine or plenty" in reference to the Okanogan River and lakes nearby. Shortly after it formed, the city of Omak vied for the status as county seat but lost out to the city of Okanogan. The Omak Stampede and the Suicide Race have been annually hosted since 1933 and 1935, respectively.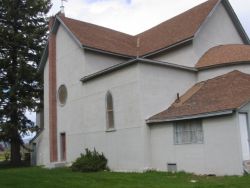 St. Mary's Mission is located south of State Highway 155 on the Colville Indian Reservation in Okanogan County. It is approximately 6 miles southeast of Omak.
The mission church was established in 1886 on Omak Creek by French Jesuit Father Etienne De Rouge (at the invitation of Chief Smitkin). The present church dates from 1910.
In 1973 the Confederated Tribes of the Colville Reservation took over St. Mary's School from the church and renamed it after Paschal Sherman. Paschal Sherman's native name was Quasquary, meaning "Bluejay" Wapato, who was a revered educator, ambassador, humantarian, and the first Colville to receive his doctorate in 1920. With the school in disrepair and with deteriorating structures, the tribe obtained federal assistance to rebuild it. New construction was completed and the school opened in May 2005. The new 18 million dollar Paschal Sherman Indian School is a state-of-the-art facility, provides classrooms for K-9 students, has a cultural center, a library, and gym with a 100-student dormitory, and ball fields all situated on 37 acres of tribal land. Paschal is Washington State's only American Indian boarding school.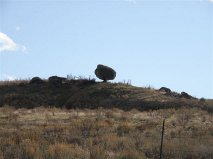 Balancing Rock or Omak Rock overklooks Omak Lake and is considered a geologic analmoly and a natural wonder. What seems like an impossibility is actually real. The rock is a large chunk of granite rock dropped by the glaciers. Known as an erratic, the rock is not native and has been moved to its present location.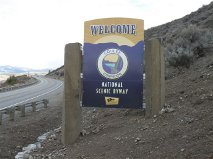 The Coulee Corridor National Scenic Byway proper stretches from Omak to Othello. The corridor was established in 1999 with primary and secondary routes, loops and spurs that span parts of Okanogan, Douglas, Grant, Lincoln, Adams, and Franklin,Counties. There is signage all along the routes with gateway signage at Omak and Othello. This signage is on State Highway 155 just south of town.