SOAP LAKE
Soap Lake is on State Highway 17 in Grant County.
Long revered for its medicinal properties, Soap Lake was first used by Native Americans thousands of years ago. Native peoples called the lake Smokiam or "healing waters" and Let-to-to-weints, which means "healing water springs."
The first pioneers who stayed at the lake in the 1880s knew it as Sanitarium lake. By 1914, the town boomed and through the 1950s, there were still quite a few spas, cabins and hotels. People believe the lake has beneficical curative properties and use its water to treat a variety of skin and internal disorders. Many of the town's first residents had lake water pumped into their homes for drinking and bathing through very few do now. Most of the hotels close to the lake have lake water pumped into their rooms. Soap Lake mud is almost equially as popular as the lake water and people are often seen slathering it on and then basking in the sun before washing it off.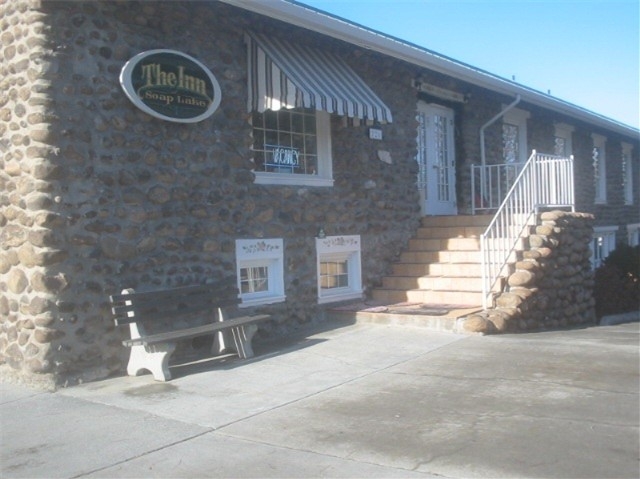 The Soap Lake Inn is a cobblestone building at 226 Daisy Street. Around 1910, E. Paul James collected rounded river rock to build this unique structure. It housed his business products "guaranteed" to cure various ills. One of his products was Soap Lake water, which was bottled and sold. Soap Lake products were manufactured in a steam plant behind the building. Janes left in 1913 and the Soap Lake products business was taken over by Earnest and Roxy Thorson in 1920 and operated until 1984. After this time, the building was converted into apartments and is now called the Inn at Soap Lake.
Soap Lake was one of five towns in Grant and Adams Counties to work with the Coulee Corridor Consortium on a community kiosk project partially funded by the City of Soap Lake and a National Scenic Byway grant. The Soap Lake kiosk was installed along the east shore of the lake next to the Chamber of Commerce Office in December 2019. A dedication ceremony is planned for fall 2021 at the earliest. Date has yet to be announced.