MOSES LAKE
Moses Lake is located on State Highway 17 in Grant County.
Chief Moses was an important leader of the Columbia (Sinkiuse) tribe of Native American peoples who inhabited the area around the lake for thousands of years, and was the eventual namesake for the town and lake. Pioneers settled in the greater Moses Lake area in the 1870s establishing a post office at Moses Lake in 1906 while much of the town centered around the Neppel railroad depot in 1911. Neppel was renamed Moses Lake in 1938. The city became home to an air base and supporting services.
The Moses Lake Air Base was established in 1942 to train pilot and combat crews for the B17 Flying Fortresses. The base name officlally changed to Larson Air Base in 1950. After World War II, the base was used by Boeing, the Air Defense Command, Tactical Air Command (TAC), and the 568th Strategic Titan Missile Squadron. During the TAC tenure, the runway grew to 12,000 feet as one of the longest runways in the western United States. The base closed in 1966 and it became part of the Port of Moses Lake.
Japan Air Lines trained pilots at the airport 1968-February 2009. Big Bend Community College moved their campus to the base. The U. S. military and other private carriers continue to use the airport for practice take offs and landings. Businesses who have operations in Moses Lake include Takata, Genie, Mitsubishi, AstaReal, and Boeing.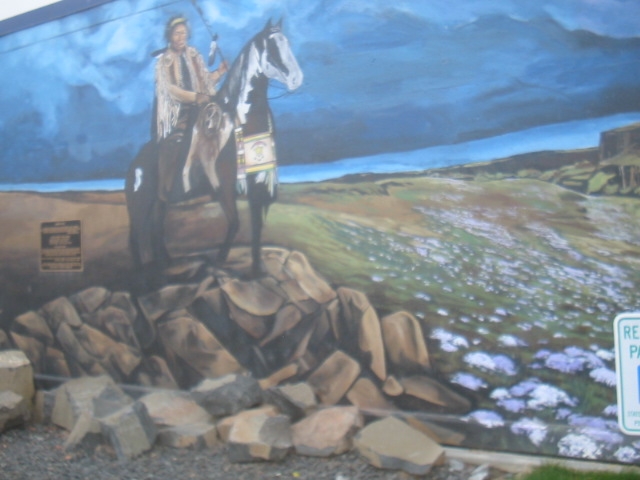 Moses Lake Chief Joseph (GMAC Bldg on W Third Avenue next to the Post Office). Patricia Jensen painted this life-size mural scene in 2004. The mural establishes a place of honor and celebrates the positive influence and leadership of Chief Moses and his tribe's people, the Columbia (Sinkiuse) Band of Indians, in the Moses Lake area and throughout the Columbia Plateau.
A new publication published in 2020 by the Grant County Tourism Commission is calledTop 26 Trails in Grant County, Washington. The free pamphlet describes hikes around the area - there are at least two near Moses Lake, # 24 Artesian and Black Lakes and #25 Gloyd Seeps - South Trail. The first hike is approximately 3.8 miles round trip while the second is 3 miles round trip. Both are easy walks with little elevation gain. The Gloyd Seeps is in a riparian setting with opportunities to view lots of waterfowl and other wildlife along Crab Creek. The second is in typical shrub-steppe habitat for the area in Rocky Coulee.